BLK+GRN Is Your One-Stop Shop For Black Wellness
Dr. Kristian Henderson is not your typical entrepreneur. As the founder of BLK + GRN, an online platform that curates natural and holistic products made by black entrepreneurs, she's also a professor at George Washington University's public health policy and management department. If that's not already a full plate, Henderson also works as a yoga instructor.
"Yoga has been a really important thing for me in terms of self-care," she tells 21ninety.com, "Having 60 to 90 minutes without my phone by me, practicing moving meditation (I struggle to meditate in stillness, but can in yoga) is important. When I'm going through a tough time, physical activity helps me process my thoughts."
Henderson's passion for wellness and self-care had her exploring products that were natural and toxin-free. Dismayed by the intense research she had to do and lack of details behind how products were made, she knew that this void needed to be filled.
Henderson understands that not everyone has time to scour the internet to research which skincare products are toxin-free. This need for clarity prompted her to create BLK+GRN. "I wanted to create a space for people to find products that support their health and wellness, to educate people on healthy living, and support black women in the process," she says.
BLK + GRN is a one-stop shop for all things eco-friendly and natural while educating customers on products and highlighting black entrepreneurs. On blkgrn.com customers can shop ethically-sourced face, body, and feminine products, all while learning about each unique artisan along the way.
Our Favorites on BLK+GRN Include: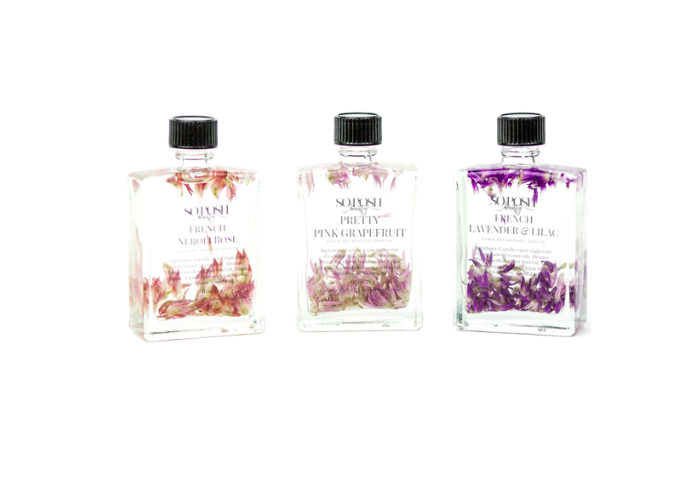 Trio Body-Infused Body Oil
This heavenly scent trio of cold-pressed plant oils infused with botanicals makes the everyday beauty routine dreamy.
The name is everything. The weightless, melanin-protecting Black Girl SPF 30 Sunscreen won't leave skin with a sticky residue or white cast. Plus, the cocoa butter and carrot seed oil keeps skin moisturized and protected as you play in the sunshine.
Plant and mineral powders are combined with soothing oils in the HunnyBunny All-Natural Deodorant Stick to keep underarms smelling fresh.
Rose Water Hydrating Toner
Hydrate, refresh and tone your face and décolletage with this Rose Water Hydrating Toner to maintain dewy skin. Rose water is mildly astringent and balances the pH of the skin.
Sweet & Salty Himalayan Salt Scrub
With the scent of sweet roses, this oil-infused Pink Himalayan Salt Scrub cleans deep into pores, sweeping away dead skin cells for smoother, clearer skin. Apply it on your feet or body for an all-over polish and luxe spa treatment at home.
[Closed] Giveaway Alert!
Treat yourself to one (or more) of BKL+GRN's amazing products with a $50 gift card!
Follow us on Instagram for details & a chance to win.